Vitargent Completes Finance Deal With Group WI Harper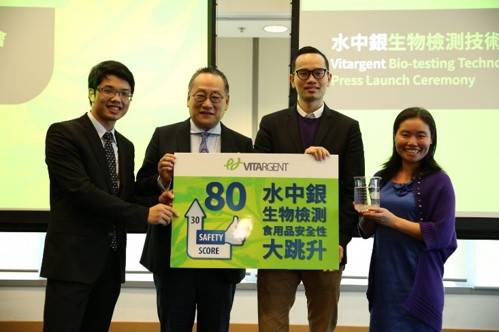 Vitargent (International) Biotechnology Ltd. ("Vitargent"), a home-grown biotechnology startup, today announced the successful completion of A Round financing led by WI Harper Group ("WI Harper"), the world's leading venture capital firm. The deal will enable Vitargent to further its bio testing technology, providing revolutionary new standards for product safety testing in the food, pharmaceutical, cosmetic and other industries. Mr Peter Liu, Founder and Chairman of WI Harper, will become the Chairman of Vitargent and lead the company in promoting bio testing to policy makers and industry leaders around the globe, redefining the industry safety standards and creating a world of high quality and safety.


"I hope our global experience and network would help Vitargent take off and let more people benefit from its advanced testing technology," said Mr Liu. "WI Harper is committed to providing assistance to talented entrepreneurs. When selecting investment projects, we don't just look at the numbersand financial performance, we consider the entire entrepreneurial process, including the team, business fields and the sustainability of their products, which are all key success factors for startups. Vitargent boasts world-leading bio technology and a strong team, their testing solutions can be applied in the food, pharmaceutical, cosmetic and many other industries for safety testing, total quality management, as well as standards and certification checks, which meet the global markets'demands for high product safety and quality. We are very confident about Vitargent's prospects in the global market."


"We are glad to have WI Harper's support, which is a great recognition of Vitargent's business direction and long-term dedication to bio- testing innovation and commercialisation." said Mr Eric Chen, Founder, Vitargent. "Over the past years, WI Harper has successfully backed hundreds of entrepreneurs. It is a globally recognised top VC firm. We are deeply honoured that Mr Peter Liu agreed to become our Chairman. He is a globally recognised venture capital pioneer who has nurtured dozens of listed companies and holds directorships at several influential organisations (including the Committee of 100 and the World Economic Forum).


With decades of experience and an extensive network in both industry and governments around the world, Peter can surely grow our business at warp speed, opening up new markets for Vitargent and introducing our world-leading bio testing technology to different parts of the world," said Mr Chen.


WI Harper will assist Vitargent in expanding its technology to China and overseas markets with the aim of gaining the support and recognition from local government bodies and industries, andproviding a comprehensive quality management, product testing and certification for enterprises in different fields. The ultimate goal is to gradually develop Vitargent's technology into an industry-recognised standard for product safety testing.


Vitargent, which established its research base at Hong Kong Science Park in 2011, aspires to build a better world with quality products under the vision of "Safer Products, Better World". Vitargent brings home a number of local and international awards with its first-in-the-world transgenic medaka and zebrafish fish embryo toxicity (FET) test technologies (see appendix), which has a proven capacity to screen over 1,000 toxins at one time. The technologies can be applied to product safety testing across various fields including food and beverage, pharmaceuticals, cosmetics and water quality. Compared to traditional product safety tests, which usually only test five to 10 toxins at a time,Vitargent's technologies are much more comprehensive and cost-effective. By applying together with the traditional chemical analysis, this new testing system can increase the safety standards from 30 points to 80 points. This is a revolutionary and effective way of product safety testing and quality assurance. Currently, Vitargent's customer portfolio includes leading testing laboratories, government bodies, multinational skincare and cosmetics companies, as well as food companies. Vitargent recently developed a testing method which combines the transgenic medaka and zebrafish FET test targeting bad quality edible oil (or refer to as "gutter oil"). Vitargent targets to have this method introduced to the Taiwan, Asia and international markets soon.
"With global governments and consumers' rising concerns on product safety, we expect to see increase in demand of product safety tests, quality management and certifications," said Mr Chen. "The market size of the testing and certification industry is already more than USD100 billion with annual growth of over 10%. Under the leadership of Peter, Vitargent is very confident that this 'Made in Hong Kong' innovative technology can be introduced to more countries and markets, achieving the company's two missions: contribute to community and create substantial return for shareholders(Do well and Do good)."
Vitargent is now cultivating transgenic medaka and zebrafish at Hong Kong Science Park's laboratory. The company is also planning to establish fish farms in Europe and mainland China, to meet the company's global expansion plan.
——End——